FOR SALON MANAGERS ONLY.
Only salon managers need apply. If the majority of your staff have a Sustainable Stylist Certificate then your salon is eligible for the Sustainable Salon Certificate (see example below). Click here to learn more about the Sustainable Stylist Certificate.
Alternatively follow this link to our YouTube Channel sustainable salon certification video
Salon managers! Got your staff to complete the training mentioned above? Great.
Now you can get your Salon Certificate. All you need to do is select what sustainable behaviours you use in your salon. Click here to complete the form and get your Sustainable Salon Certificate!
Remember only the salon manager need apply.
The form will generate a certificate for you to print and display. If you don't have a printer you can contact us at ecohairandbeauty@soton.ac.uk.
Here's an example certificate, this shows all of the actions that a salon might take.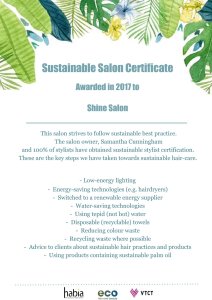 Where can I find a Sustainable Salon? New salons are being added every week!
Our virtual salon training programme: the new Sustainable Stylist and Sustainable Salon certification, have been developed with our industry partners (Habia, VTCT) and the All Party Political Group on the hairdressing sector.
Once completed the certificate will be with you within one week. Over holiday periods up to two weeks. Email us if you have not received it or need any advice.